Back to School in Haiti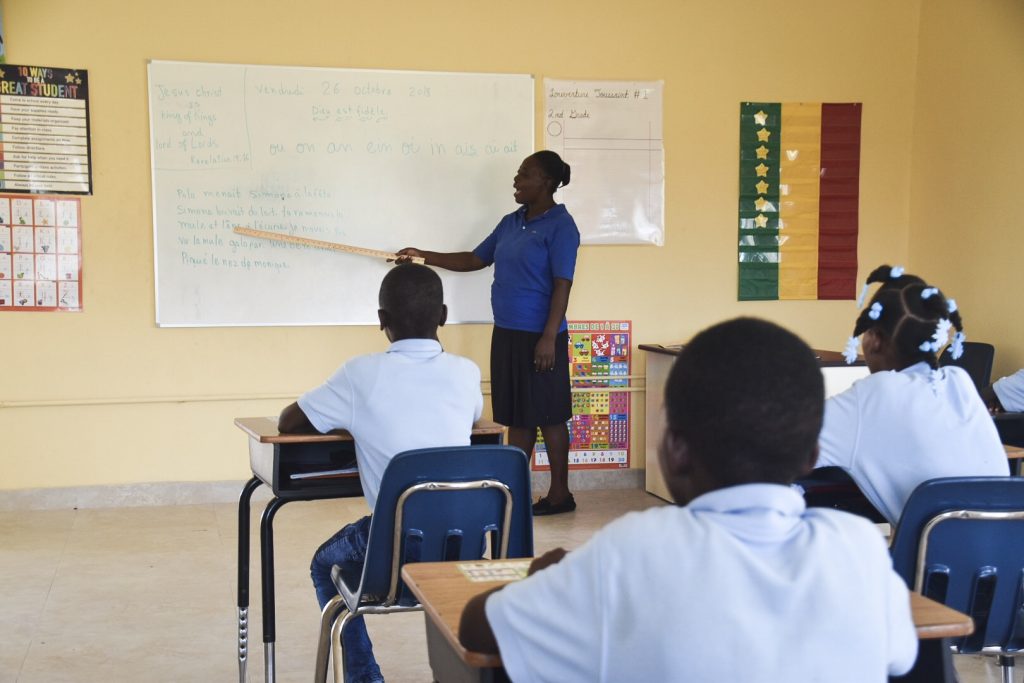 It is the first day of school.
You wake up early, probably for the first time in 3 months, and you get ready for the day.
You put on all the new clothes your mom bought you; you grab your new backpack full of your brand new spirals, pencils, and folders.
You eat a healthy breakfast and you go to school.
Now let's compare this to one of our kids in Haiti. They wake up early, having no breakfast, they put on their uniform that their parents most likely went into debt to buy for them, they grab their backpack (probably not new) and their one pencil, and they go to school. If they are among those lucky enough to attend. Many kids never even get the chance.
It is easy for us here in the States, to take school for granted. When I was growing up, my favorite thing about the first day of school was getting a chance to wear one of my new outfits and getting to use all the new supplies my parents had bought. Now that I am older and have experienced what life is like around the world, there are some things that I have become more thankful for besides new supplies and new clothes.
Since working with LiveBeyond, I have learned more and more about the education system in Haiti. One of the most shocking things that I have learned is about Haitian teachers. In many schools in Haiti, the requirement for teaching a specific grade is that you must have graduated from the grade above the grade you want to teach. So if someone wants to teach second grade, the only education they would need, is at least a third grade education. This seems absurd to someone who always went to school never even thinking to questions my teacher's level of education.
This is one of the many areas where LiveBeyond is trying to change the status quo in Haiti. They refuse to settle with the norm and are challenging not only their kids, but also their teachers to be better. They want the kids in the Education program to have the best quality education they can have, and one of the ways they achieve that is by hiring educated and passionate teachers.
The Lord has been so generous in His provision of the LiveBeyond School. He has provided 7 teachers who are so hungry to watch our kids learn and thrive. I eagerly look forward to what the Lord has planned for the LiveBeyond School and for the day that I see these kids becoming teachers and principals, ready to change their country as a whole.
The steadfast love of the Lord never ceases!
Teagen Anderson
#LiveBeyond #livebeyond #Haiti #school #education #childsponsorship #sponsorachild