Caring for the Moms of Thomazeau, Haiti
A huge thank you to everyone who has already donated in the first week of the Mother's Day Campaign! LiveBeyond is beyond grateful and encouraged by your generosity. By donating, you can know that you are helping create positive health outcomes for the babies and moms of Thomazeau, Haiti.
Today, we have a special message to share with you from Laurie about the Maternal Health Program and the exciting new vaccination services for the moms and babies. Click below to watch the video.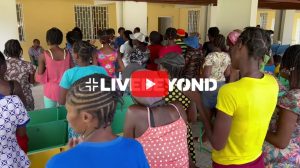 Too many preventable diseases continue to harm vulnerable communities. LiveBeyond will continue to do all we can to combat these circumstances. When you donate to the 2023 Mother's Day Campaign you are helping the Haitian doctors and nurses create a healthier community in Thomazeau, Haiti. Your support will help provide life-saving vaccines to moms and children in need. 
Help LiveBeyond doctors and nurses provide vaccination services to combat maternal and infant mortality and improve quality of life! When you give, your donation will go toward: 
– Purchasing specialized equipment for proper storage of the vaccinations
– Hiring new medical staff to provide and manage the vaccination services
– Purchasing vaccinations through 2023 
Thank you for your generosity in helping the LiveBeyond doctors and nurses to reduce maternal and infant mortality. Together we can help mothers and children in the Maternal Health Program survive and thrive.