Choosing a Side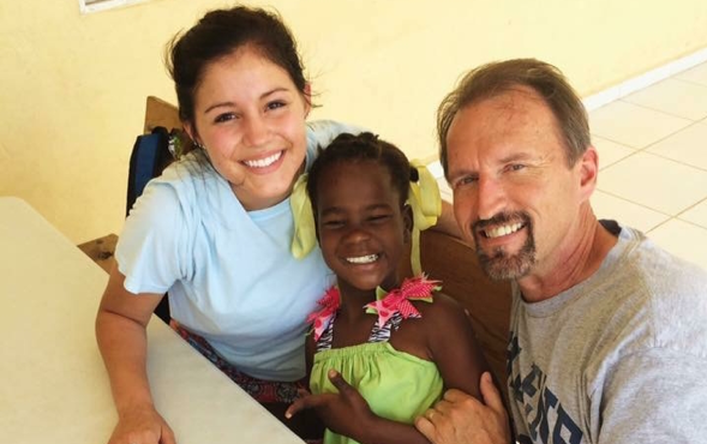 My name is Robert Oglesby, and I am a professor in the bible department at Abilene Christian University. You are probably thinking I am about to share some insightful best practices of mission work in the words below, but if you came on the trip to Haiti, you would see I am not always comfortable doing mission work. I have decades of experience in ministry, but the best description of my mission style might best be described as inept and awkward.
When it comes to working outside the U.S.A, I do not pick up foreign languages easily. I start getting comfortable with a few commonly used phrases of a foreign language as I get back on the plane to go home. I don't like to eat foods that I can't identify. If I can't call it by name in under three seconds, I do not not eat it. I rarely try new menu at my favorite restaurant, Chili's, in good old West Texas.
I know mission work demands some sacrifice, but I prefer to choose which ones. I like the air conditioning to be cool and the showers to be warm. I have found that the air is usually too hot and the showers too cold. Speaking of showers, my first trip to Haiti included walking up a mountain trail one hot afternoon to visit folks in the community and were interrupted with a rainstorm. This particular weather was not a little Texas sprinkle. Imagine horizontal sheets of water that were so cold that is takes your breath away. Halfway through the storm, I realize there was not one inch of my body that is dry—Don't even ask me about my iPhone. Halfway through the walk, I am standing under a small tree for shelter with a fellow worker. I check the itinerary a little closer. Nope, they did not advertise this surprise experience on the written schedule.
We had a variety of medical clinic experiences that I felt inadequate performing, but I could at least predict and manage my discomfort there. Some moments were sad and some were absolutely beautiful. The hug of a special needs child or the look of relief on a mother's face when her child received treatment they so desperately needed.
As I was feeling confident again, I went with a minister, an evangelist, and a security guard out into nearby communities. I know it sounds like the setup for a joke, but we walked through villages talking to people about Jesus. Toward the end of our afternoon, we wound up at the home of a Voodoo priest. My discomfort began to rise as we walked onto his turf to talk about Jesus. The translation was sketchy at times. I read the nonverbals of the priest and the front part of the conversation went well, but we reached the crux of our differences. The priest grew more animated in his gestures. I realized there was a gap in my ministry training at ACU about Voodoo. Maybe I slept through those lectures. Here came that feeling of ineptness again.
The discussion was actually summarized well by the voodoo priest. There is power in Light (God) and there is power in Darkness. The priest chose darkness, and we believe God is more powerful than darkness. As we sang praises on the rooftop of the LiveBeyond facilities, the silence between songs allowed us the hear the drumbeats of those who worshipped the darkness. Each side in desperate pursuit of the hearts of Haiti.
You chose one side or the other. The people of Haiti make a choice each day. Voodoo or Christ. There is no gray. Sometimes in our country, we think there is another position in the middle. We could learn so much from a third-world country.
I am thankful for the Vanderpool's and the LiveBeyond ministry as they push back the darkness as they preach Christ. I am thankful for their willingness to use inept missionaries like me to carry out the mission of God. It was a joy to join you in God's mission. I hope the message is clear. If I can do it, you can too!
Robert directs Abilene Christian University's Center for Youth and Family Ministry and teaches several of our youth and family ministry and general ministry courses. He works part time with the Southern Hills Church of Christ as a Family Minister in their Youth and Family Ministry program.
Robert graduated from Abilene Christian University with a bachelor's degree in 1981. He received his master's degree in Marriage and Family Studies from Abilene Christian University in 1982. Robert has served as youth minister in Temple, Texas and Abilene.
Robert and his wife, Jenny, have three children: Lauren, Gregory, and Leslie.
#LiveBeyond #livebeyond #missiontrips #Haiti #Haitimissiontrips #shorttermmissions