LiveBeyonder Spotlight | Skylar Scribner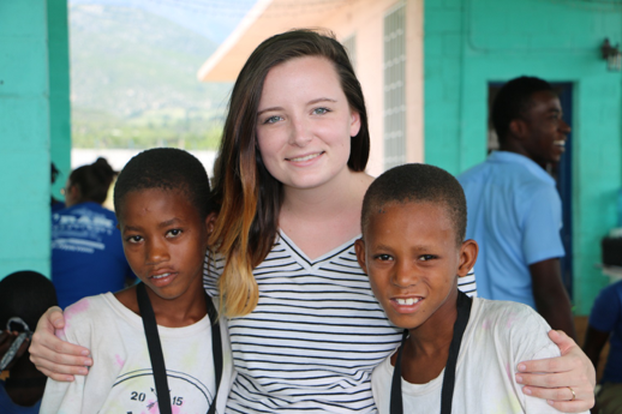 How many LiveBeyond mission weeks have you served on? I have only served on one trip with LiveBeyond (April 2016), but I plan on going as often as I can!
Share how you got involved with LiveBeyond. My dad had heard about LiveBeyond through his church and decided he wanted his business to be involved somehow. He started taking employees on trips last year, and he invited me and my husband along this past April!
What's your favorite part of the mission week? We participated during a Kè Pou Timoun Camp, and we not only had the privilege of getting to know all the children individually, we also had the opportunity to visit all of their homes. This for me was the best and most impactful part of the trip—being able to see where they go home to every night and being able to pray over them.
Share one of your most memorable experiences or encounters in Haiti. There were so many memorable parts of the trip, it's hard to even pick one. When we visited the home of Tibeline and Junior, both of whom just started school and had both become first in their class, I saw their smiles as they proudly showed us their home. I think those smiles changed my whole life. Jesus tells us that what we do for the least of these, we do for him. And LiveBeyond had taken these two precious children and gives them what they lack. They are giving them a future and most importantly, they are showing them that Jesus is their hope! Their smiles showed me the Lord's beautiful face and His great love. I would give up the whole world—this life that I live—to see those smiles on every person who suffers.
What keeps you coming back to Haiti with LiveBeyond? Well I have only been on one trip, but the children will keep me coming back. When I said goodbye to them at the end of the week, my heart broke. Not because I would miss them, which of course I will, but my heart became heavy because I felt responsible for them now. In that moment it became my responsibility to be Jesus to them and to everyone else! And I think that responsibility falls on all who call themselves Christians—to be Jesus to the lost and broken. This is what will bring me back.
Tell us how the people of Thomazeau have changed your life. I feel like I have already answered that in all my other answers! To say the people there changed my life is an understatement. I will never be the same after meeting them.
How have you seen LiveBeyond expand our work and impact since you got involved with our work? I have only been there once, but I love what LiveBeyond is doing in Thomazeau. Transforming it one life at a time. I especially love the strong foundation they are giving to the children of Kè Pou Timoun. They are instilling within them the ability to become leaders in their community, and to me, this is the greatest thing.
Skylar is from Fort Worth, Texas. She was a part of YWAM (Youth With a Mission), a mission based discipleship school, where she served for two years. Skylar recently started her own floral design company in August 2015.
#LiveBeyond #livebeyond #Haiti #missiontrips #Haitimissiontrips #shorttermmissions